Profile

Free Account
Created on 2013-10-06 03:32:37 (#2088014), last updated 2014-10-29 (150 weeks ago)
56 comments received, 833 comments posted
6 Journal Entries, 5 Tags, 0 Memories, 15 Icons

About

Mini Bio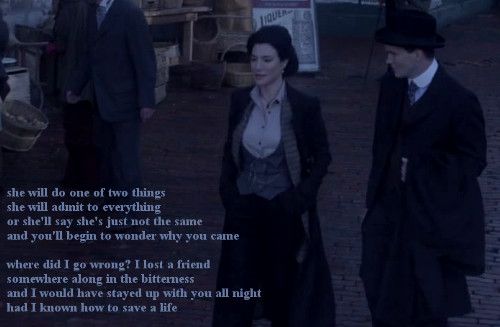 David Wolcott was the fourth child and third son of a middle-class Jewish family in Birmingham. His oldest brother was slated to take over his parents' accounting business, despite being wholly unsuited to the task; his other brother became a rabbi; and David himself had no idea
what
he wanted to do with his life. He got what education he could, helped his parents with their work, and had mostly resigned himself to keeping his oldest brother from driving things into the ground.
And then one day, a woman came charging into the building, shouting in a foreign language and waving a sword at any man who held still long enough. David managed to get the sword away from her by approaching her from behind, and that evening, he found himself with a new job in London, collecting Artifacts for Warehouse 12. Once he got the knack of it, he truly enjoyed it; the work was a challenge and he found himself with a surrogate sister in the form of his partner, one Helena Wells.
Unfortunately, Helena's demons upon losing her daughter got the better of her, and David happened to be nearby when she tried one of her last desperate attempts to set the situation right. The next thing David knew, it was four years later and Helena, believing she'd killed him, had asked the Regents to bronze her. He set himself to the task at hand, retrieving Artifacts and helping to prepare for the upcoming move to America.
That move proved to be his undoing. One would have thought, with a global war breaking out and the Atlantic fairly teeming with artillery as a result, they would have had more problems earlier in the voyage; instead, they made it as far as Niagara Falls and promptly ran into pirates, of all things. David died in the skirmish, determined to keep the pirates from finding the contents of the bronze sector (particularly Helena).
David is much more likely to operate within the bounds of Victorian culture than Helena, but when he's comfortable in a situation, his sarcasm comes to the fore. He's an investigator at heart, and devoted to the Warehouse and his chosen family.
Warehouse game:
Character:
David Wolcott
Fandom:
Warehouse 13
Arrival date:
(LEAVE BLANK UNTIL ACCEPTED)
Canon Point at Date of Arrival:
post-death by pirates
Can they be canon-punctured:
N/A
Woolly is from Warehouse 13 and thereby property of Syfy. This is strictly for non-profit RP funtimes. Gareth Dvid-Lloyd likewise belongs to his own self.
Milliways: Characters who knew Ianto Jones are welcome to note a bit of a resemblance.

Connect

People
[View Entries]

Communities
[View entries]

Member Of (8):

Subscriptions (8):

Administrator Of (0)

Feeds
[View Entries]

Subscriptions (0)

Linking
To link to this user, copy this code:
On Dreamwidth:
Elsewhere: